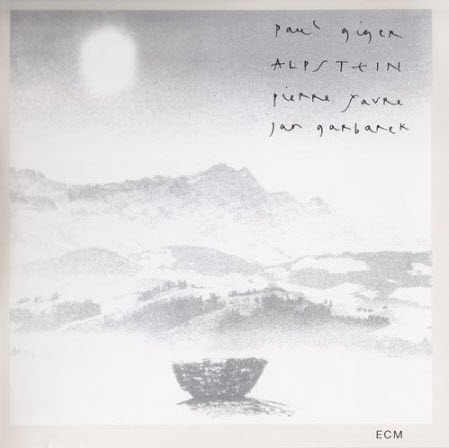 Label: ECM Records / Genre: Jazz / Bitrate: lossless | 320kbps
Quality: FLAC (Tracks,scana)|MP3 / Time: 62:34 min
Size: 304 mb
Tracklist
Tracks:
1. Zšuerli 3:
10
2. Karma Shadub 13:
41
3. Alpsegen 12:
43
4. Zšuerli 1:
53
5. Zšuerli 2:
21
6. Chuereihe 17:
33
7. Chlauseschuppel 4:
09
8. Trogener Chilbilšbe 7:
00
Personnel:
Paul Giger (Violin)
Jan Garbarek (Tenor Saxophone)
Pierre Favre (Percussion)
Violin virtuoso Paul Giger revisits his roots with this, his second solo recording, Alpstein, which features pieces for violin, saxophone, and percussion based on the folk traditions of the Alpstein region of Switzerland. Three pieces here are entitled Zšuerli -- named after the sad majestic natur yodel tradition of the Outer Rhoden region. These are sweeping and majestic with high harmonic bowstrokes. This recording features the saxophone work of Jan Garbarek and the percussion of Pierre Favre. Both add an incredible warmth to the recording on the pieces they are featured on, most notably Alpsegen with its soaring sax lines and manic percussion. Also notable is Chlauseschuppel, featuring the sounds of cowbells specific to that region. Informative booklet included.
Download Links

Hotfile
http://hotfile.com/dl/93390030/9c19c3a/Paul.part1.rar.html
http://hotfile.com/dl/93390052/c4c138b/Paul.part2.rar.html
http://hotfile.com/dl/93390084/d60e9f3/Paul.part3.rar.html

Fileserve
http://www.fileserve.com/file/dnJa5jX/Paul.part1.rar
http://www.fileserve.com/file/FZUUSaJ/Paul.part2.rar
http://www.fileserve.com/file/Vyz6SPm/Paul.part3.rar


All links are interchangable. It mean you can download any part of archive from any server and can extract it without problem! PM me if links are dead, I will try to re-upload the file if I can!